Doucette's Caper Gas Service Station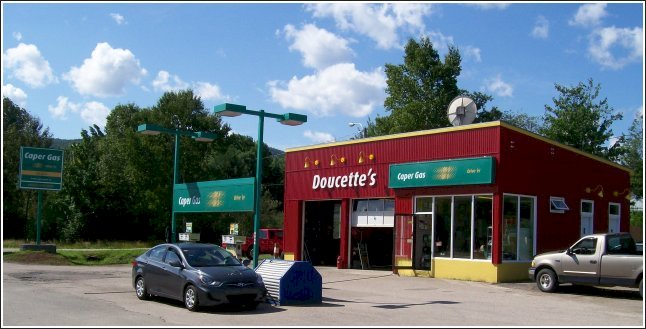 The longest serving Service/Gas Station on the Cabot Trail. Three generations of Doucette's have operated at this location for 60 years. Attending to all of you automotive needs. Brothers Michael and Stephen will be pleased to serve you.
– Full Service Gas and Automotive Supply and Service
– Two Licensed Mechanics
– Automotive Service, Repair and Replacement
– Specializing in Warranty Maintenance requirements
– Tires, Batteries, Brake and Exhaust Systems
– Official Motor Vehicle Inspection Station
– Licensed Propane Fill Station, cylinders only, not equipped to fill
RVs
– Call Out Service Available
– Confection Items: Lottery, Ice, Tobacco, Refreshments and Snacks
– RRFB Licensed (Tire Recycling)
– Used Oil Drop off
– Parcel Depot
– General Information and Direction Dissemination.
– Central Location on a Large Lot.
Located at the entrance to Cape Breton Highlands National Park in Ingonish Beach. Minutes from the Beach and next door to the areas major services and attractions including Highlands Links Golf course. 45 minutes south to the TC#105, 70 minutes to Baddeck and 1.75 hours to Sydney. For all your automotive needs visit Doucette's Service Station – Ingonish Caper Gas.
Address 37718 Cabot Trail, Ingonish Beach, Nova Scotia, Canada
Phone (Primary) (902) 285-2029
Email ingocapergas@bellaliant.com
Website capergas.ca/caper-gas-outlets