Green Cove Trail – Cape Breton Highlands National Park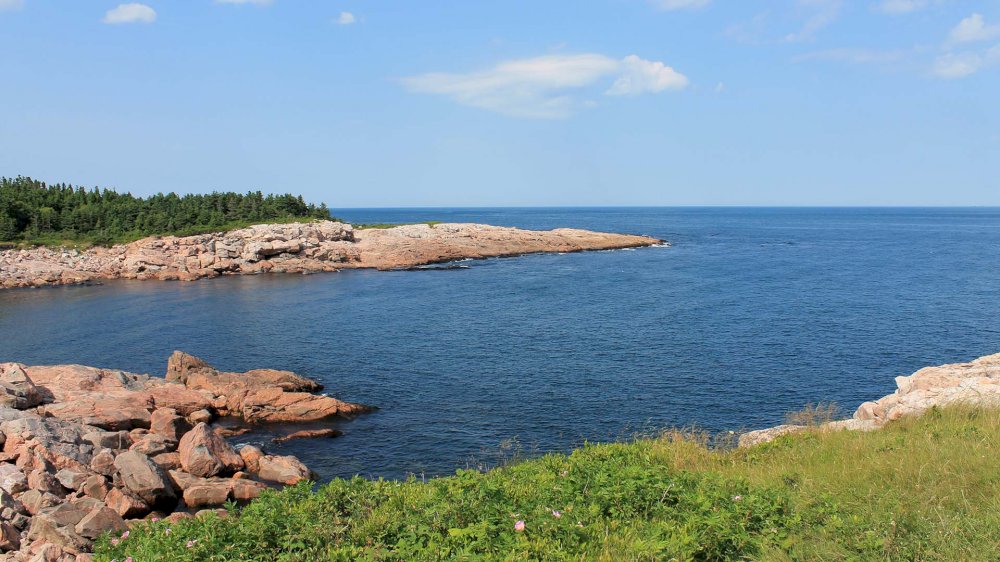 Although this trail is very short, a mere "leg stretcher", it is quite fascinating. From this rocky granite headland jutting out into the sea, you can watch the ocean crash against the rocks or catch a glimpse of whales offshore as fishermen tend to their lobster traps, daring to come so close to the rocks. Notice the twisted stunted trees – known as "krummholz" – and the leathery leaves of the bayberry. Plants here have adapted to this windy, salt-sprayed coastal environment.
Caution: Keep away from rock edges during high wind and waves and always use caution around dark rocks.
Trailhead: Parking lot on the Cabot Trail
Significant Feature: Atlantic coastline, geology
Length: 0.2-km (0.1-mi) loop
Hiking Time: 10 minutes
Elevation: 10 m (35 ft.)
Trail Rating: Easy
GPS Co-ordinates for Trailhead (in decimal degrees):
Lat: 46.750779 Long: -60.324785
Park is open year-round but full visitor services are only available from mid-May until mid-October. A park pass is required all year for hiking or use of other services in the park. Check in at the Parks Canada Visitor Centres in Chéticamp (16 Visitor Centre Road, just off the Cabot Trail on the west side of the park) or in Ingonish (37637 Cabot Trail, on the east side of the park) to obtain passes, information on visitor safety and any other information you may need, including a trail location map.
For your comfort and safety:
– Do not approach, disturb or feed wild animals.
– Take along appropriate clothing – rapid weather changes often occur on the plateau or along the coast.
– Carry water with you, especially for longer trails, climbs or open barrens.
– Bring insect repellent as black flies and mosquitoes are common all summer.
– Mountain bikes are permitted only where indicated, for public safety and protection of the environment.
– Stay on designated trails and boardwalks to protect fragile vegetation.
– Do not throw food or scraps along the trails or roads.
– Read "Keep it Wild, Keep it Safe" brochure, available at park visitor centres and on the Parks Canada website.
– Recreational drone use is prohibited within the national park for the safety of wildlife and other visitors