Ingonish Chalets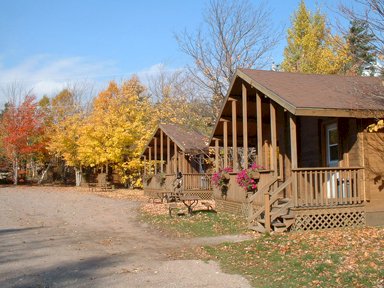 Ingonish Chalets is situated on a private wooded lot on the Cabot Trail, just 6.4 km (4 mi) north of the Cape Breton Highlands National Park. Our property features a children's play area, hiking trails and access to a sandy beach. We are just 5 minutes away from the Highlands Links Golf Course; visit our website for details of our golf packages.
While staying with us, enjoy a day trip through the Cape Breton Highlands National Park on the legendary Cabot Trail with panoramic views of canyons, highlands and seacoasts; hiking trails; golf; beaches; look-offs and interpretive programs.
Our accommodations include 14 two-bedroom pine log chalets with full housekeeping facilities (Single, Double, Queen; 4 with electric fireplace); 5 one-bedroom motel suites with light housekeeping facilities (Queen). All accommodations include a 4-piece bath, electric heat, gas barbecue, and satellite television. Cribs, cots and highchairs are available. All units are non-smoking, but smoking is permitted on the verandah. Pets are permitted.
We are a proud member of the Tourism Industry Association of Nova Scotia. All major credit cards and direct debit are accepted.
Cancellation Policy: Must cancel 1 week prior to your day of arrival for a refund of a deposit or to avoid a credit card charge.