Warren Lake Trail – Cape Breton Highlands National Park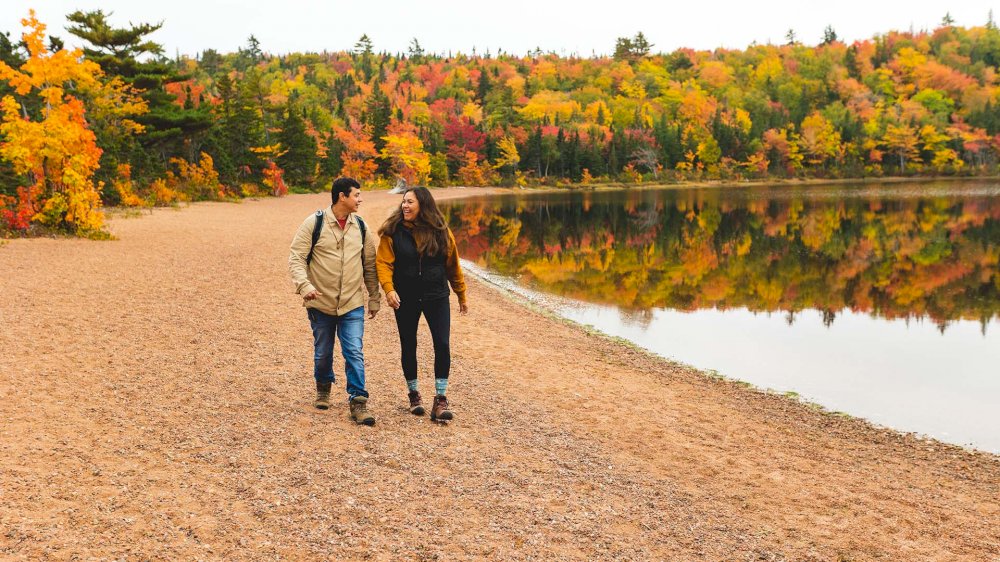 Note: Infrastructure improvements in the park may cause delays or reduce services while we complete this important work. We appreciate your understanding at this time.
For a relaxing walk or an early morning jog, this level trail is hard to beat. Starting at the Warren Lake picnic area or the access trail from Broad Cove Campground, the trail hugs the shoreline of the park's largest lake and is alive with wildlife. A wide variety of birds flit through the trees and there is evidence of larger animals like moose and bear. Quiet hikers may catch a glimpse of one of these elusive animals. The west end of the trail can be a bit wet and muddy—be sure to wear appropriate footwear.
Trailhead (2): The Warren Lake picnic area or from the connector trail (1.6 km) across from Broad Cove Campground.
Significant Feature: Acadian forest, lake
Length: 4.7 km (2.9 mi) loop
Hiking Time: 1.5–2 hours
Elevation: 15 m (50 ft.)
Level trail. A few rough and wet sections.
Trail Rating: Moderate
GPS Co-ordinates for Trailhead (in decimal degrees):
Lat: 46.713207 Long: -60.383985
Park is open year-round but full visitor services are only available from mid-May until mid-October. A park pass is required for hiking or use of other services in the park; park entry fee applies. Check in at the Parks Canada visitor centres in Chéticamp (16 Visitor Centre Rd., situated on the west side of the park) or in Ingonish (37637 Cabot Trail, on the east side of the park) to obtain passes, information on visitor safety and any other information you may need, including a trail location map.
For your comfort and safety:
– Do not approach, disturb or feed wild animals.
– Take along appropriate clothing – rapid weather changes often occur on the plateau or along the coast.
– Carry water with you, especially for longer trails, climbs or open barrens.
– Bring insect repellent as black flies and mosquitoes are common all summer.
– Mountain bikes are permitted only where indicated, for public safety and protection of the environment.
– Stay on designated trails and boardwalks to protect fragile vegetation.
– Do not throw food or scraps along the trails or roads.
– Read "Keep it Wild, Keep it Safe" brochure, available at park visitor centres and on the Parks Canada website.
– Recreational drone use is prohibited within the national park for the safety of wildlife and other visitors.