Your Perfect Picnic – Cape Breton Highlands National Park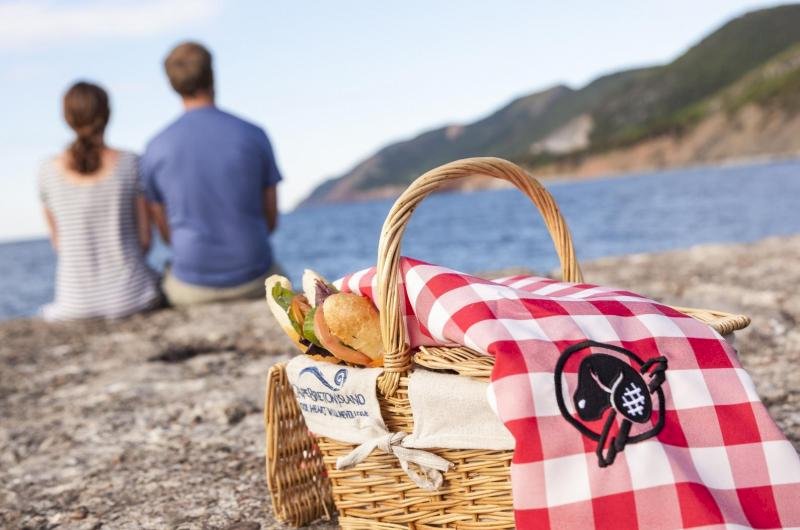 Update: Due to COVID-19, the visitor experience at Parks Canada-administered places may be different than it has been in the past.
Please visit pc.gc.ca/ns and follow Parks Canada's social media channels for information and updates on the status of all Parks Canada-administered places
Our twist on "take-out"
Everything tastes better when you eat it outside!
So go ahead—let nature design your dining space. The highlands, beaches, lakes, waterfalls and forests set the scene—add yourself and bon appétit!
It's as easy as 1, 2, 3!
Place your order
Pick up your lunch
Find your perfect picnic place in Cape Breton Highlands National Park and enjoy!
Once you've had your fill, keep your souvenir Parks Canada picnic blanket and box to use again and again. Your taste buds will never forget Cape Breton. Nor will your heart.
Picnics prepared from a choice of local favourites by the The Bean Barn Café and Deli (Ingonish); Aucoin's Bakery (Chéticamp); and Salty Rose's and the Periwinkle Cafe (Ingonish).
Top 10 Perfect Picnic Places
Ingonish Beach
Spread a blanket in the sand or use a table by Freshwater Lake
La Bloc
Let the ocean lap at your feet as you enjoy your picnic
Le vieux chemin du Cap-Rouge
A five-minute climb brings you to a picturesque panorama
Fishing Cove
A remote piece of paradise beckons you to visit and linger awhile as your dine out of doors
Grand Anse
Find a picnic table nestled in the shade of huge old-growth trees
MacIntosh Brook
Kitchen shelter, washrooms and a playground complement a peaceful trail leading to a beautiful waterfall
Warren Lake
Birds serenade and mountains surround this lakeside picnic paradise
Top of Franey Mountain
Reward yourself with awesome views and a hearty snack at the end of your climb
Middle Head
Enjoy your picnic and the stunning scenery, surrounded by ocean on three sides
 
Share your perfect spot with us
#PerfectPicnic